Yes, it is Spring Break,
& yes this is an old outfit post because there is no longer snow around these parts,
it is 80 degrees & sunny.
But being spring break, I will be wearing the same PJs for the next 4 days. #sexy
What I Wore: glasses- Steve Madden, necklace-
Gypsy Warrior
, top- WD NY via Marshalls, lips- MAC "Candy Yum Yum", blazer- Prabal Gurung for Target, jeans- Gap, loafers-
Loly in the Sky
, bow earrings, Clair's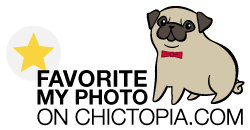 & yes I wore almost this exact outfit about year ago too…
not being a copy cat when it is you, right?
+ a pug
= a copy pug?!