It is true-- I take inspiration from everything.
That is why I love blogging, I thought I was the only one who used to "shop" on people as they walk by.
Blogging makes it easier and lots less creepy.
My direct inspiration for this outfit is
[oomph]
I was so attracted to this out fit mainly because I have all the pieces and I could pull them out and instantly rock this look.
So here is my take:
What I Wore: denim button up- hand me up from sister {GAP}, pink ruffle shirt- GAP, leopard belt- Betsey Johnson {via TJMaxx in Denver last year $3!}, pink pants- Forever 21, glitter shoes- AE for Payless {have TOMS wedges like oomph is wearing but my walk to work is less than glamous so no wedges for now}. leopard glasses- Jean LaFont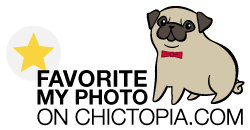 & I had a photo shoot with barry:
#1 is barry as a french bulldog,
#2 & #3 is me trying to get him to love me
#4 is barry reaching his ultimate goal = nap time on my lap