I had to rock the mohawk today.
Mainly because it was down yesterday and after a double work shift yesterday my fiance told me I looked like a little boy who needed a shower.
He meant well & he loves me- promise!
What I Wore: Glasses:

Tortoise "Tamara" glasses- c/o

Proopticals, bow tie blouse: thrifted, jeans- Levis, boots- Steve Madden Intyce via Open Sky.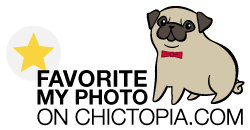 & he does too, or maybe the fact that it was breakfast time...
Shortly after this photo was taken his name tag got stuck in his food bowl. He was terrified and ran to me for help, I untangled him & spent the morning mopping up the mess.
So is my fiance, otherwise he would have been cleaning it up =)